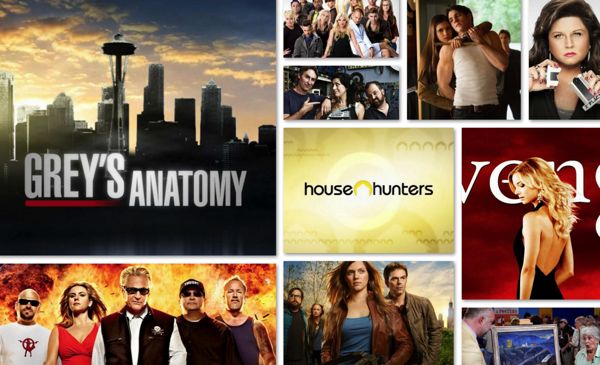 You don't need a cable subscription—or any subscription, for that matter—to watch the latest episodes of shows like "30 Rock," "The Vampire Diaries," "Hoarders," "Modern Family," and even "House Hunters" on your iPad.
Of course, the selection of shows you can watch is limited; for example, don't expect a vast archive of old "Fantasy Island" or "Lost" episodes on ABC's free iPad app. Instead, you'll usually find only the most recent episodes of shows that are currently on the air.
Also, two of the biggest broadcast TV networks—CBS and Fox—have yet to serve up their own free streaming-TV apps for the iPad. That means no free "Simpsons" or "The Good Wife" on your tablet.
And one more thing: no fast-forwarding through the commercial breaks, which (at least) are typically no longer than 60 seconds or so.
The good news, though, is that these
8 TV apps for the iPad
require nothing more than an Internet connection to work—in other words, no subscription fees (as with the Hulu and Netflix iPad apps, which cost $8 a month to use) and no need to "verify" that you're a paying cable customer (as with the streaming TV apps for ESPN and TNT).
So, ready to tune in? Here we go…
1. ABC Player
ABC offers a generous selections of free streaming TV shows on its iPad app, including primetime shows like "The Bachelorette," "Castle," "Nashville," "Grey's Anatomy," "Modern Family," and "Revenge," as well as daytime shows ("The View," "General Hospital") and news programming ("20/20," "Good Morning America," "Nightline," and "This Week").
You can also check out your viewing history and a weekly broadcast schedule, as well as pick up streaming TV shows from where you left off.
Get ready for commercials, though—lots of them, and no, you can't skip 'em.
Download: ABC Player
2. A&E
Stream full episodes of such guilty reality pleasures as "Duck Dynasty," "Hoarders," "Storage Wars," "Cold Case Files," "Flip this House," "Panic 911," and the sobering (depending on the episode, of course) "Intervention," along with a couple dozen other shows.
Also included: A full A&E programming schedule, plus a queue for the episodes you want to watch next.
Download: A&E
3. The CW Network
Among the shows available on The CW's iPad app: "90210," "America's Next Top Model," the nearly wrapped-up "Gossip Girl," "Nikita," "One Tree Hill," "Supernatural," "L.A. Complex," and "The Vampire Diaries."
The app also offers photo galleries for its top shows and access to its various Twitter and Facebook feeds, plus a weekly programming guide.
Missing in action: a history of the shows you've streamed, although the app will let you resume a show right where you left off.
Download: The CW Network
4. History
Full episodes of "Top Gear," "Swamp People," "Mankind," "Mountain Men," "Ice Road Truckers," "American Pickers," and several other popular History Channels shows are present and accounted for.
As with the (very similar) A&E iPad app, you can save favorite episodes in a DVR-like queue, as well as peruse History's upcoming broadcast schedule.
Download: History
5. Lifetime
Get ready for full episodes of "Project Runway All Stars," "Double Divas," "Supernanny," "How I Met Your Mother," "Army Wives," "Dance Moms," and "Project Runway,"
Also, break out the hankies—we've got dozens of Lifetime movies on tap, ranging from "Lies and Crimes" (a woman learns the truth about her dead husband, who was a cop), "Infidelity" (couples counselor Kim Delaney's "latest affair will force her to confront her own issues"), "The Murder of Princess Diana" (was it an accident, or a conspiracy?), and "The Perfect Marriage" (not so perfect, needless to say.)
Download: Lifetime
6. NBC
The sleek NBC app boasts full episodes of prime-time shows like "The Voice," "Community," "Revolution," "30 Rock," "Parenthood," "Parks and Recreation," among others. Also on the list: full episodes of Leno and Jimmy Fallon, along with the daytime soap "Days of Our Lives" and the weekly news program "Rock Center."
Yes, photo galleries are included, plus a series of trivia quizzes and the ability to create a favorites list if you sign in with your Facebook account.
Download: NBC
7. PBS
Dozens of popular and lesser-known shows are available on the PBS app for the iPad, including "American Masters," "Antiques Roadshow," "Frontline," "Masterpiece Theatre" (or "Masterpiece," as they're now calling it), "Nature," "Nova," "PBS Newshour," and "Washington Week."
Sorry, no quizzes or photo galleries here, but there is a weekly programming guide, or you can sign in to create a list of your favorite shows or check your viewing history.
Best of all? No commercial breaks, although you'll have to sit through a brief clip from a sponsor at the beginning of most episodes.
Download: PBS
8. HGTV To Go (download)
If you're a "House Hunters" fanatic, get ready to be happy. We're talking full episodes of "House Hunters" and "House Hunters International," along with "Design Star," "Selling New York," "Selling L.A.," "Holmes on Holmes," "Property Virgins," "Curb Appeal," and "Room Crashers."
You can also check out photo galleries, view HGTV's Twitter feed and Facebook page, and add shows to your "favorites" list.
Surprisingly enough, you won't have to suffer through any commercial breaks, although that could change when and if HGTV manages to whip up some sponsors.
Download: HGTV To Go
Have any other good streaming TV apps for the iPad to share? Post 'em below!
Note: This post (which was originally published back in July) has been updated with apps from A&E, History, and Lifetime.
8 apps for watching free TV shows